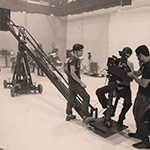 About Nama Film

Founded in 2006 as a filmmaking company both in cinema and TV. Based in Tehran, Iran, Nama Film works with a team of highly motivated and experienced professionals with expertise varying from scriptwriters, actors, software editors to scene directors. Over the past years Nama Film has captured domestic and international awards within the movie industry for creating and distributing innovative and original contents in cinema. Working with talent Iranian group combined with a deep understanding of the marketplace and social knowledge. Nama Film has the ability to create short and long movies in a short time and add value to the content it produces.
Phone: +98 21 8899 0472
F13,  1st Floor, Kian Shopping Center, West Zartosht St.,
Phalestine St., Fatemi Sq., Postal Code: 1234567897
Tehran, Iran.